CUSTOM MOBILITY SOLUTIONS
ENLITEN's custom mobility solutions take our patented devices and fit them to your specific needs. The only limit is our collective imaginations. Let us work with you to create the mobility environment you need. Below are two examples of our customized installations. Give us a call.
---
SITRAS - Single Track Area Support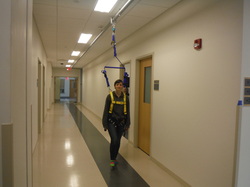 With ENLITEN's patented track system mounted in your building, support can be placed anywhere you need it, allowing users to move safely through hallways, over treadmills or within motion labs. Turntables in the overhead track allow for intersecting paths. Multiple cars can run on a single rail. Loops allow for connectivity over a large area. This system allows a single therapist to work with several patients, without fear of falling injuries. Let us help you put mobility and safety in a whole new light.
---
---
Large Area Support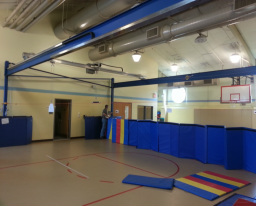 This is our only unit that uses electricity... about the same as a blow drier. It provides support over an area as large as a gymnasium. Add body weight support and the users can sit, climb steps, jump and move around while only bearing a fixed percentage of their weight. A clever counterbalance system lets the amount of lift be easily and quickly adjusted. Think of the whole system as a helium balloon without the need for the huge balloon.

​
---
---
ENLITEN... SUPPORTING YOU IN A WHOLE NEW WAY