OASUS - The Open Area Support System for everyone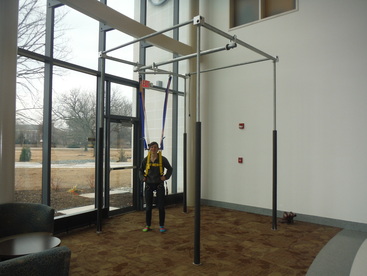 Need a long-term mobility solution?

Want support over an entire room?

Need a solution that does not require
remodeling your space?

---
This free-standing unit is custom fitted to any area up to 12 x 20 feet and for any load rating. Larger areas can be accommodated with additional intermediate support legs. Set-up takes about an hour and then you are ready to go... literally. No modifications are needed to the building and nothing is attached to the walls or ceilings. Use it for a room at home, a small business, or even a sales kiosk. The four support legs can be positioned to reduce intrusion within the building, providing open access to the entire area within the system footprint. Price is based on size and load rating and starts at around $5,300. Isn't it time you got around a bit?
To see how the University of Delaware is using our systems, click
HERE
.
---
ENLITEN... HELPING YOU TO START LIVING IN ALL YOUR SPACE