The ENLITEN family of solutions share a common engineering approach and a variety of features. See how we view support in a whole new way! ENLITEN provides ENgineered LIft TEchNology for everyone.
​
TYPICAL USERS: Our systems help people of all ages from a few years old to over 90 years young. No matter what the reason, if walking or balance poses a problem, we can help.
​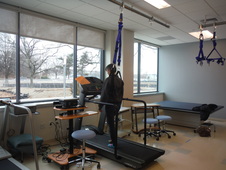 FALL PREVENTION: ENLITEN systems connect the user to the support structure with a strong strap. They can be configured to provide no lift when moving, but catch you if you start to fall. An elastic loop softens the restraint.
---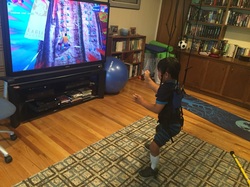 BODY WEIGHT SUPPORT: These systems use a counterbalance or elastic connection between the user and the support structure. They provide a steady vertical force to reduce the load on your legs.



---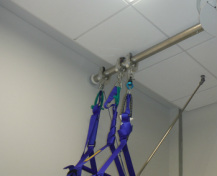 PATENTED CARS: The "cars" are the rolling elements that let you move effortlessly around the installation. The unique design of our low friction, lightweight cars provide support wherever you roam with no need for electrical connections. They self center on the rails and glide almost effortlessly. Walk on!

---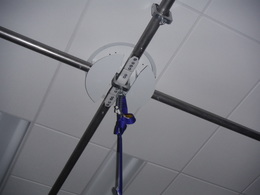 CHANGE DIRECTIONS: Our Single Track Area Support systems can include a turntable, allowing the intersection of two independent support paths. Interlocks allow only one path to be used at any time, but with a twist of your wrist, you can change directions. Connect rooms together, put two support paths in one room... you pick the direction to go.
---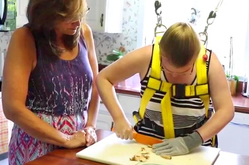 OPEN INTERACTION: Forget clunky, rolling frame designs. With all support coming from directly overhead via soft links, the user is free to interact with their surroundings, without interference. Cook a meal, get a hug, swing a bat, kick a ball, live life safely!
---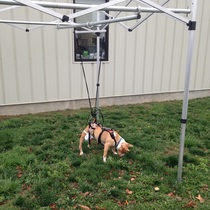 PICK YOUR HARNESS: The system's design is modular so users can choose virtually any harness. Pick 1, 2 or 4 straps for the vertical support; decide if you want a spreader bar to space out the straps or not; and, if you prefer a partial or full body type harness . We can even adapt to custom harness preferences. The choice is yours.
---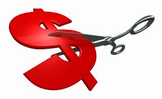 LOW COST: The modular design allows the system to be affordably customized. We also have a variety of financing options. Give us a call and let us find a way to take a load off your legs without emptying your wallet.
---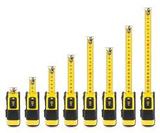 CUSTOM IS THE NORM: Only the PUMA Canopy Unit is a fixed size. Everything else is customized to your space. Our modular approach makes it easy to match a unit to almost any area. Contact us, we'll find a way to make it fit.
---
---
ENLITEN... LOOKING AT SUPPORT IN A WHOLE NEW WAY